Rangers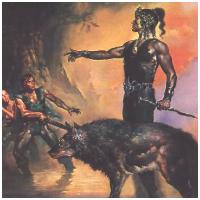 Rangers are an interesting type of warrior who prefer the open expanses of the outdoors to the cramped, uncomfortable confines of a castle or tower. They are most at ease when the wonders of nature surround them, and especially when the creatures of the forest can be heard in all directions.
They are influenced by the religions of Tempest and Silvanus, though not all rangers devote themselves primarily to either of these deities. Although they all share a love for nature and are quite adept in battle, there may be other aspects of life that are held even dearer to any particular ranger.
Rangers are renown for their unique abilities at working with things of the natural world, and their skills at outdoor survival are equally exceptional. Those who embark upon a dangerous exploration through the wilds would be wise to have a ranger along side them as guide and advisor.
Guildmaster: Zimri Aleh, the Falconer